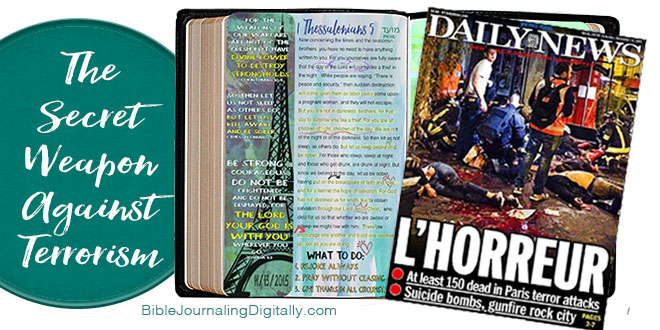 I watched television with the rest of the world as the  Paris tragedy unfolded on Friday evening though Saturday. My mother called me and remarked how ISIS did what they set out to do, terrorized us.
Use Your Sword Against Terror!
I admit I was terrorized by all the horrible violence until I grabbed my Bible and plunged into God's comfort. Hiding God's Word in our hearts is the secret weapon against terrorism.
Spending time in His word renewed my mind into a right perspective that God has a plan, He is in charge, and we are not to fear.   I journaled the three passages  that spoke to me in a margin strip and added to my Bible and planner.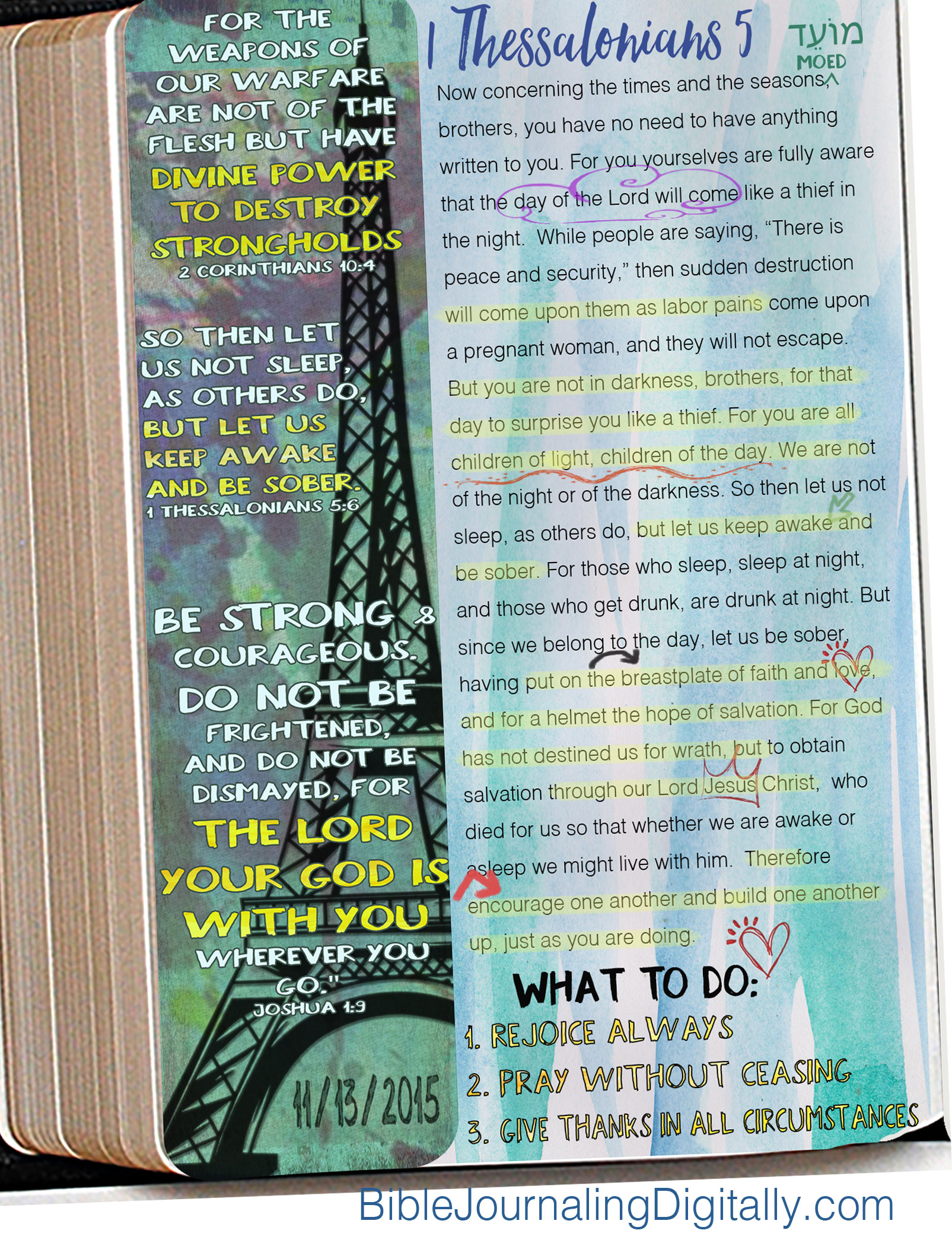 Before the tragedy I was having fun decorating my planner with Sweater Weather and a silly fox theme. Seems so trivial now. I added the margin strip to the side.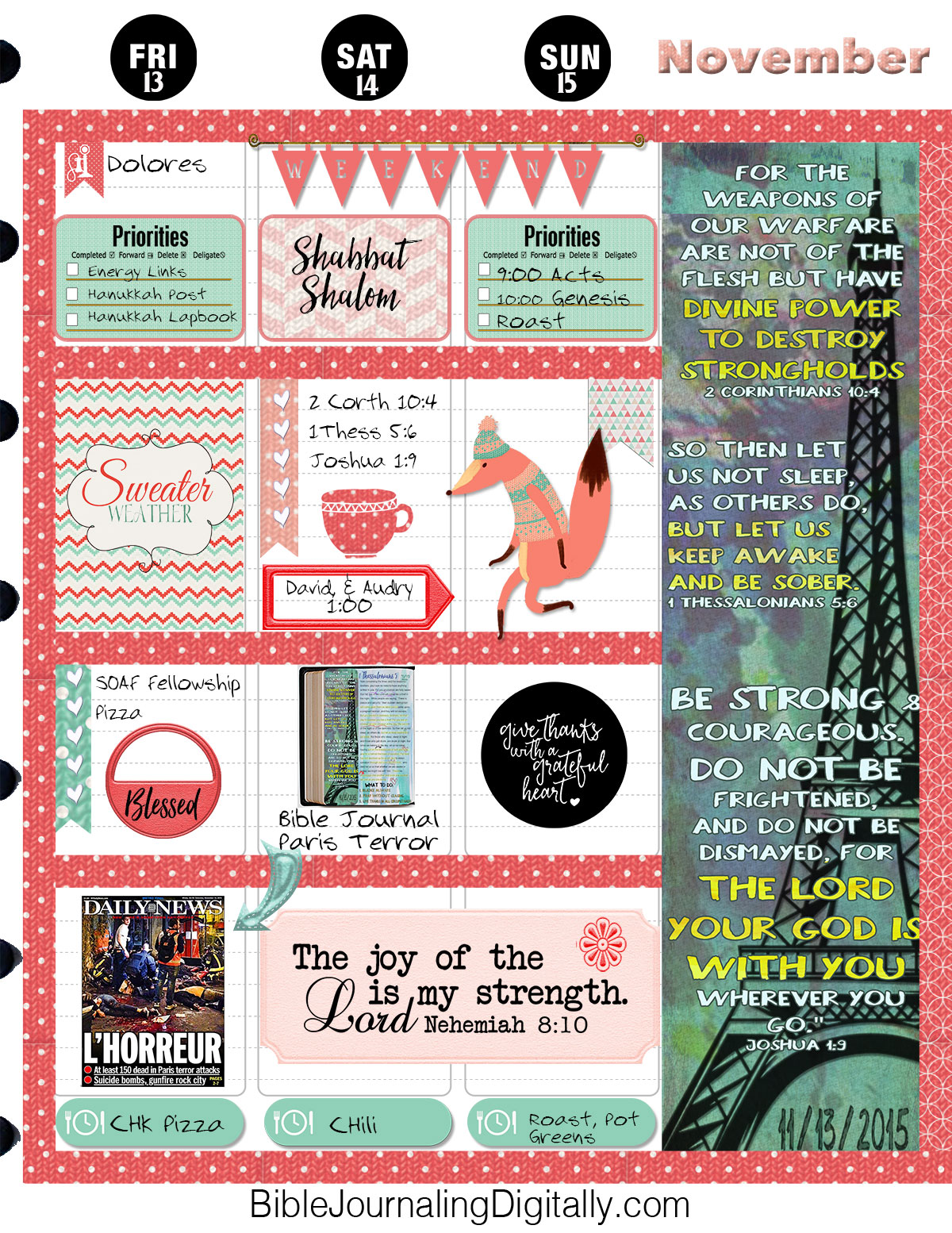 We Cannot Understand the Terrorist
Our battle is not with the brainwashed young men causing all the damage. This is a spiritual battle we must lean on God to fight.
For the weapons of our warfare are not physical [weapons of flesh and blood], but they are mighty before God for the overthrow and destruction of strongholds.
—2 Corinthians 10:4
Last week  Moran Rosenblit (born and raised in Israel) from Hope4Israel.org visited our church. He showed slides of a 13 year-old Palestinian in the hospital from burn wounds he got while  trying to hurt Israelis. He asked us to pray for Israel and the Palestinians. These young boys have no clue. They are raised since birth to hate Jews. They don't know any better. They are walking in the spiritual dark being used by our enemy. How wonderful Moran can pray for his enemies and not end up like so many filled with anger and hate.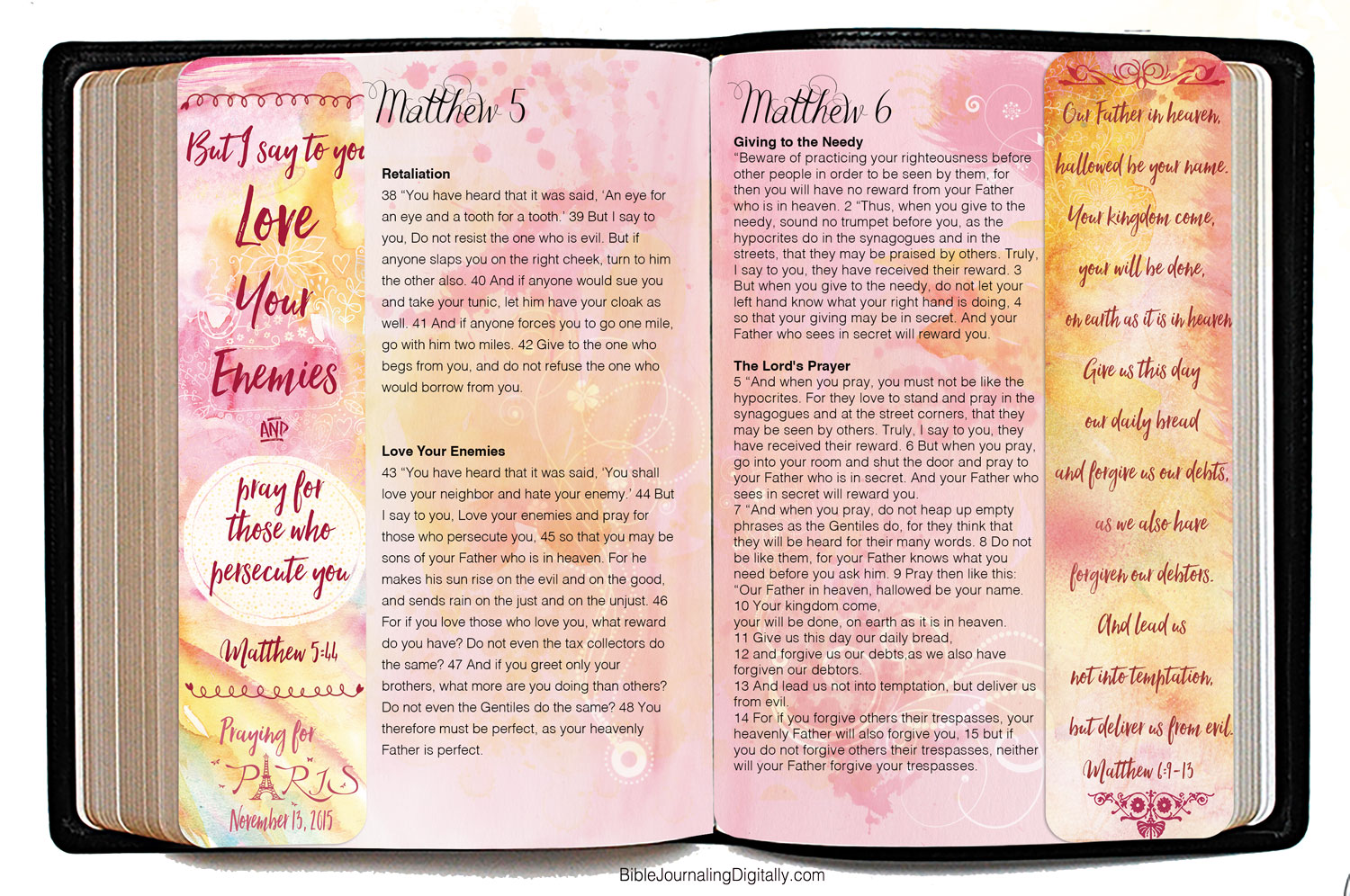 Bible Journaling Personal Tragedies
Debby Schuh from Illustrated Faith Bible posted how Bible journaling strengthened her during a personal trial after she broke both her feet on a Florida trip.
Deuteronomy 31:8 was her comfort. Ironically she used the Eiffel Tower on her page (months before the November tragedy, but such a fitting page for Paris).
"It is the Lord who goes before you. He will be with you; he will not leave you or forsake you. Do not fear or be dismayed."
I was so pleased when I went for my daily visit to the Illustrated Faith Facebook Group to find several people battling terror with their swords! I got permission form a few the ladies to share their images.
You will not fear the terror
Amanda Rose journaled Psalm 91:5.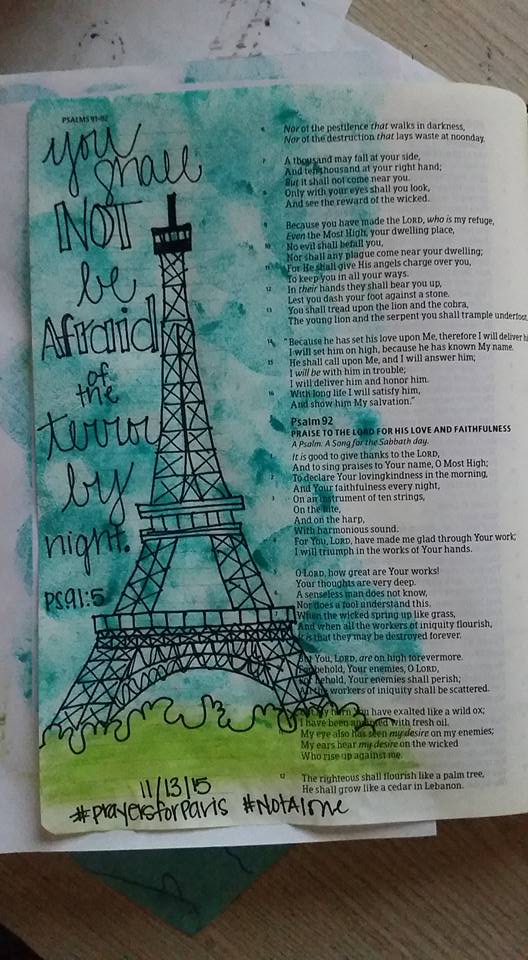 Lord, incline your ear
Emily-Gail-Shellman journaled prayers for Paris with Psalm 10:17.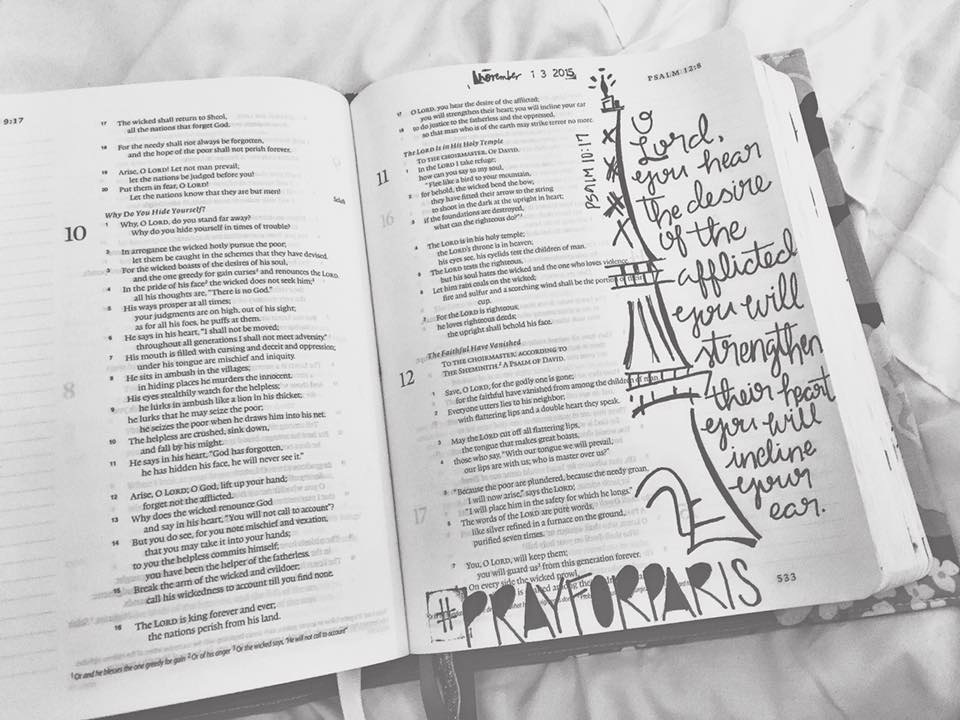 I just love all the different ways Bible journal can be done. Everyone can express themselves through their gifts and talents. 
Comfort My People
Pam DeSantis journaled 2 Corinthians 4:8-9 and Isaiah 40 in her notebook.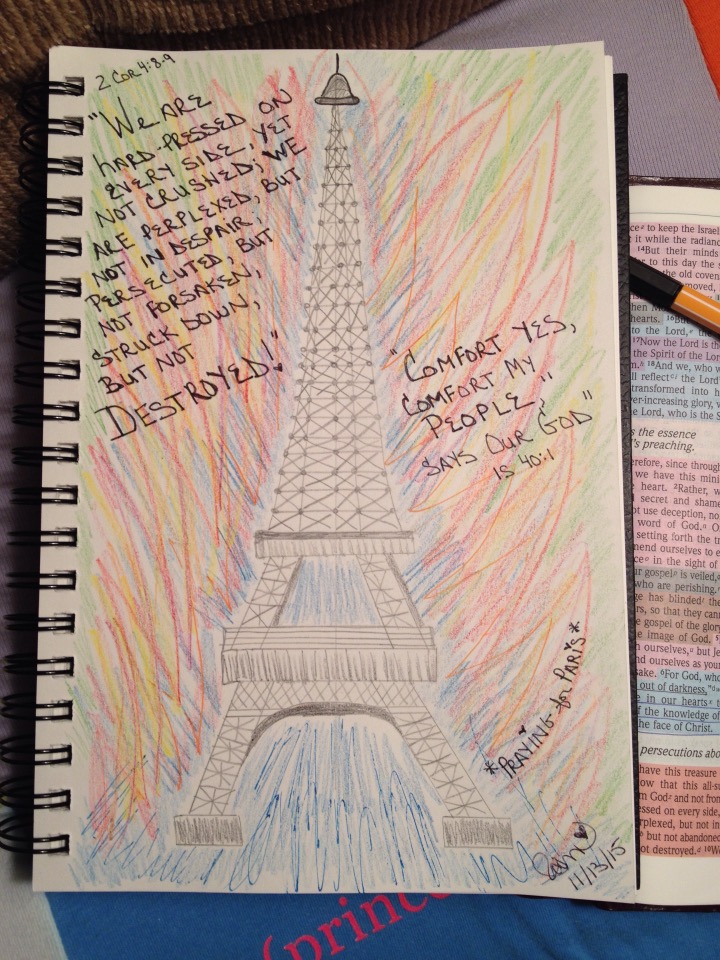 If you journaled a Bible page about Paris I would like to add it. Message me on Facebook or in the Bible Journaling Digitally Facebook Group.