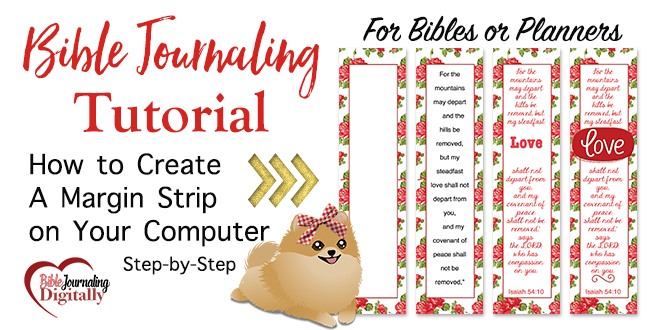 If you are interested in Bible Journaling Digitally you need to learn some Photoshop Elements basics. The best way is to practice layers and text on a simple image like a Bible Margin Strip. These strips fit beautiful in planner margins too.
Working with Layers
To create the margin strip you will be working on three separate layers.  Layers let you add components to an image and work on them one at a time.
Layers are like stacked, transparent sheets of glass on which you can paint images. You can see through the transparent areas of a layer to the layers below.  Layers are organized in the Layers panel. Keep this panel visible whenever you're working in Adobe Photoshop Elements. With one glance, you can see the active layer (the selected layer that you are editing).
This video explains PSE layer basics.
Click here to watch another video explaining layers. 
Create a Margin Strip Step-by-Step

Best Free Fonts
Here is a list of free fonts you can use for personal Bible journaling (anything other than personal requires purchasing a license)
More Details with Links to Video Tutorials
Step One
Download the free kit. Unzip and place the folder in a location you can easily find (like your desktop).
Choose a margin strip from the kit to open in Photoshop Elements. This will be your first layer.
Save your document by clicking file/save.
Each strip is 2×9 inches. You will need to resize for your Bible or Planner margin. Stop now and measure your margin (average is 1.5×8 inches).
Step Two
Your second layer is a paper strip. While the margin strip file is open in PSE click File/ Place Embed to add the second layer on top of the margin strip layer.
The paper is textured. You will need to color it (white or a light color). There are several ways to add or change color. See video here. 
You can always draw a rectangle for text instead of using the paper.
Decide if you should add a colored stroke to your paper.
Step Three
Make a text box for your third layer.
From the toolbar, select the Horizontal Type tool.
Drag a rectangle to create a textbox for the type over the paper layer.
Type the Bible verse in the text box (or go to BibleGateway.com to copy the passage and paste it in the box). The text appears in its own layer.
See video Adding Text In Photoshop Elements
Step 4
Experiment with type options, such as font, style, size, and color, in the tool options bar.
Step 5
Download Free Kit