Freebie #1: Count Your Blessings Game
Counting our blessings is so important in this age of entitlement.Here is a gift that I hope will bring your family together for a few minutes to be grateful. Its a simple game can be played by all ages. You adhere leaves to a tree as you list things you are grateful for. The instructions include prompts for children that may have a hard time thinking of things.
Freebie #2: Thanksgiving Tags
Are you baking a gift for neighbors or family? Here is a tag for your treat. Print 6 tags from your computer (card stock is best). The Download link to all the freebies is at the bottom of this page.
Perfect time to get the December Daily Kit!
Freebie #3: Thanksgiving Margin Strips
These strips are prefect for the Bible Journal Beginner! Print from your computer and glue into your Bible margin. That simple. See the link at the bottom of this page.
About the Blessings Game
The game include three sheets. 1. Tree 2. leaves and 3. Instructions.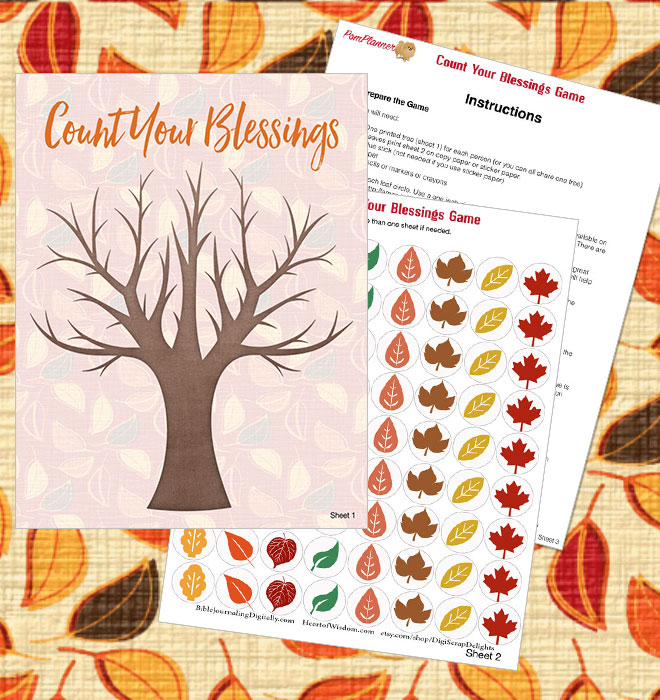 Instructions
You will need:
One printed tree (sheet 1) for each person (or you can all share one tree)
Leaves print sheet 2 on copy paper or sticker paper.
Glue stick (not needed if you use sticker paper)
Paper
Pencils or markers or crayons
Cut out each leaf circle. Use a one inch circle punch to punch out the leaves. Or cut circles with scissors. There are 72 leaves on the sheet. Print more if needed. A circle punch is a great inexpensive tool (Martha Stewart's punch is under $6 here) to have on-hand for all types of children's crafts. Alternative: If you use punches you may have one in your craft stash that works better than my leaf circles. Such as a leaf punch, scallop or pinking circles. I think hearts would be adorable.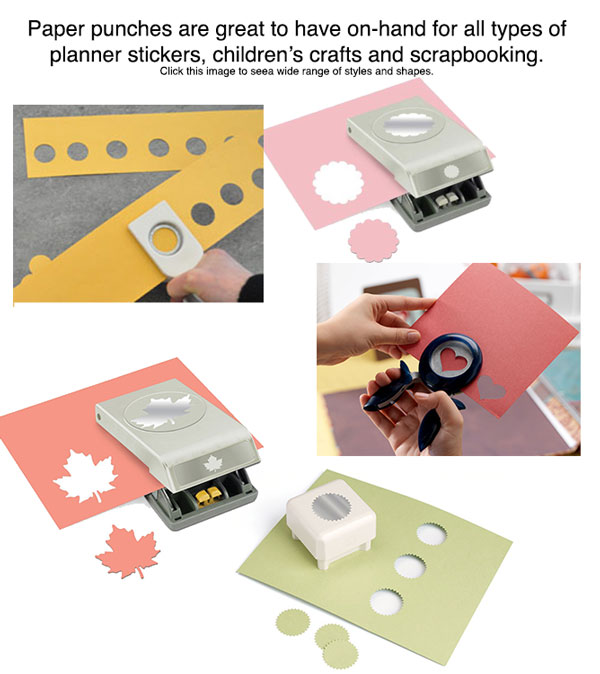 Another great alternative is letting the children cut the circle leaves. Cutting circles is a great practice for younger children developing moter skills. Cutting out lots of circles will help them to get the hang of moving the paper with the assistant hand while cutting.
Pass out an equal number of leaves to each player. If you sharing one tree for all the players each person should put the initials on each of their leaves.
How to Play
Set a timer for 10 minutes (more or less depending on ages )while players write or draw an item they are grateful for on the front side of the leaf. Older children can help younger children write words.
Alternative: Young children may struggle writing on such a small surface. An alternative is to have each person can make a numbered list and write the corresponding number on the leaf.
Begin with the youngest child and go to each player clockwise.
When it is each player's turn they hold a leaf and explain what they are grateful for then adhere the leaf to the tree. Then it is the next players turn. If younger children have trouble with making a list ask them questions to help them. Such as:
What is your favorite activity? music? food? friend? toy? pet? store? etc.
What do you appreciate the most about each member of our family (list by name)?
What do you appreciate in your room?your house? your kitchen? neiborhood? state? country? etc
Did you know know some boys and girls don't even have clean water to drink? They have to walk long distances to drink from rivers. Get them to to appreciate the little things we all take for granted.
Everyone is a winner!

Download the Freebies