It is  so exciting to see the beautiful new coloring books!! Theses are the newest available. Click the images for purchasing information. Read the descriptions carefully several are now available with special premium paper and others are not just coloring books but devotionals or Bible study too!
1. Chalk it Up to Grace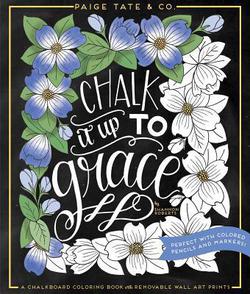 From chalk artist Shannon Roberts and Paige Tate & Co. comes a new inspirational coloring book, Chalk it Up to Grace This premium book features removable 8 x 10 and 5 x 7 designs, printed on thick paper and perfect for framing. The book features your favorite scriptures and phrases including "Sweet words are like honey to the soul," " Have faith in God's timing," "Love never fails" and so many more. Roberts combines her beautiful chalk art with scripture in this unique chalkboard themed coloring book. Every page is designed to let you focus on the beauty of Scripture and bring it to life through coloring. Color with high quality art supplies including colored pencils, markers and gel pens. Enjoy Paige Tate & Co. By the team behind the national bestseller Beauty in the Bible.
[line]
#2. Coloring Guide to Spiritual Inspiration in the Word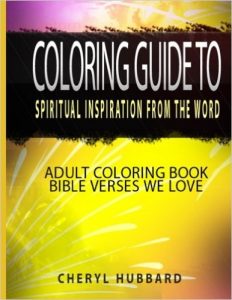 2. Coloring Guide to Spiritual Inspiration from the Word   is a quiet but active way to use patterned designs and be inspired by your favorite verses in the bible. Reading verses from the bible has the ability to calm you, encourage you, motivate you and change you. These favorites "BIBLE VERSES WE LOVE" have been selected because they are the most searched verses online and for their power to transform your life forever!
Take time to slow down, sit back, and think on God's Word. Inside these pages, you'll find unique and creative geometric patterns spotlighting a verse to include in your daily life and each offering an opportunity to connect with the Bible while exploring your creativity. Study Guide included.
[line]
#3. Things Above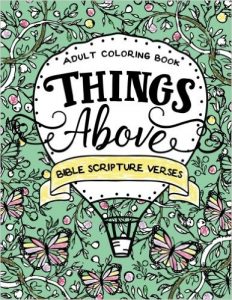 Things Above: Adult Coloring Book  Keep your mind on Jesus as you color through scriptures. This book has vibrant designs, each carefully created for the optimum coloring experience. From flowers and hot air balloons to feathers and donuts, create your own work of art while you keep your mind on Things Above! Includes these scripture verses: – For we walk by faith, not by sight. 2 Corinthians 5:7 – A happy heart makes the face cheerful. Proverbs 15:13 – The Lord will fight for you; you need only to be still. Exodus 14:14 – Do not fear, for I am with you. Isaiah 41:10 – The fruit of the spirit is love, joy, peace, patience, kindness, goodness, faithfulness, gentleness and self-control. Galatians 5:22-23 – You will keep in perfect peace those whose minds are steadfast, because they trust in you. Isaiah 26:3 – When my heart is overwhelmed; Lead me to the rock that is higher than I. Psalm 61:2 – Taste and see that the Lord is good. Psalm 34:8 – He has made everything beautiful in its time. Ecclesiastes 3:11.
[line]
#4. Beauty in the Bible 2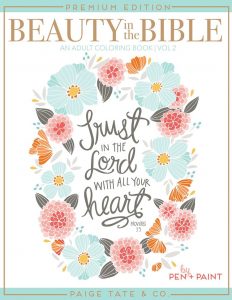 This book includes inspirational Scripture quotes such as "You will show me the way of life" and "Trust in the Lord with all your heart." Every page is designed to let you focus on the beauty of Scripture and bring it to life through coloring.
In this video you can get a peek inside  Beauty in the Bible: Adult Coloring Book Volume 2,
[line]
#5 Psalms Coloring Book: Jesus Take the Wheel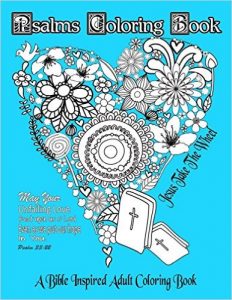 This Psalms Coloring Book is a Bible Inspired Adult Coloring Book Masterpiece. Connect with the creator as you peacefully color your stresses away and memorize the psalms as you go. Measuring 8.5″ wide x 11″ in height, this book is a good size and you can carefully remove each page so that you can frame your spiritual works of art. With over 30 pages to choose from you will spend hours coloring these pages so it's guaranteed to provide lots of spiritual joy.
[line]
#6. Illustrated Prayers from the Bible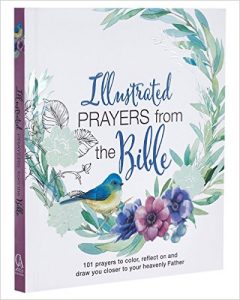 llustrated Prayers from the Bible offers 101 powerful prayers from Scripture with lined facing pages to scribe your own thoughts and reflections, and an artistic rendering of text from the page's prayer that you may color as you quietly meditate on the Lord's blessings. Bound in heavy stock, the lovely book cover features silver foil accents and embossed and spot varnished design elements. The page edges are lilac color. A presentation page in the front makes this book even more perfect for gift-giving.
[line]
[line]
#7. Handlettering 101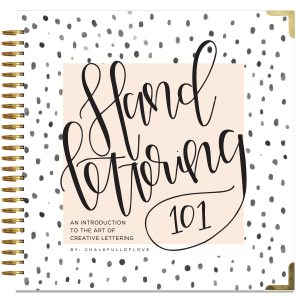 OK not really a coloring book but WOW!! What a great addition to the Bible journaling library. Hand Lettering 101: An Introduction to the Art of Creative Lettering. If you follow Chalkfulloflove on social media, you and thousands of others already know how adorable her hand-lettered creations are. Well, we have awesome news for you: Sarah brings her fabulous Hand Lettering 101 workshop right to you with this beginner's workbook! In this book, you will go over the basics: what tools Sarah uses, her method, how she started, and where you can go with your new skills. This book will guide you through each letter of the alphabet, go over the technique behind connecting letters, give tips on how to mix and match your fonts, and finally lead you to make six finished projects!
[line]
#8. Wholehearted Coloring Book Devotional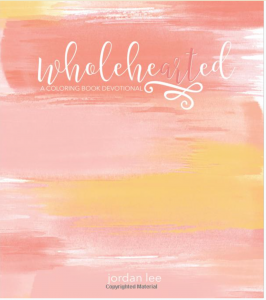 8. Wholehearted: A Coloring Book Devotional, Premium Edition
This premium version includes gold spiral binding, thicker paper and additional devotions and illustrations
Embark on a 30-day journey to study the Scripture and embrace creativity. Jordan Lee of Soul Scripts leads this guided devotional with love and encouragement for anyone who wants to connect with the Bible, while Whitney Farnsworth's exquisite illustrations provide inspirational coloring images to help you shape this journal into a work of beauty and devotion.Whether this is your latest devotional or your first, this beautifully illustrated and enthusiastically guided daily journal invites you to embrace a wholehearted connection, study, and engagement with the Word.Begin your wonderful adventure with this beautiful guided study of the Word.
[line]
#9. The Fruits of the Spirit Coloring Books & Bible Study

Make time to learn while you color in a relaxed setting with friends and family with this inspired coloring book and bible study, "The Fruits of the Spirit". Adults and children alike will enjoy creating on the pages with their favorite mediums. There are no rules. Color inside and outside the lines-and if you're feeling really free, create with color on top of the designs. Questions are opposite each Fruit of the Spirit page. You'll find scripture throughout the coloring pages, which is a great way to meditate on God's Word. There is a blank of in the book designed especially for you to create your very own 'COLORME' art piece on the Fruits of the Spirit.
[line]
#10. Devotions from the Heart.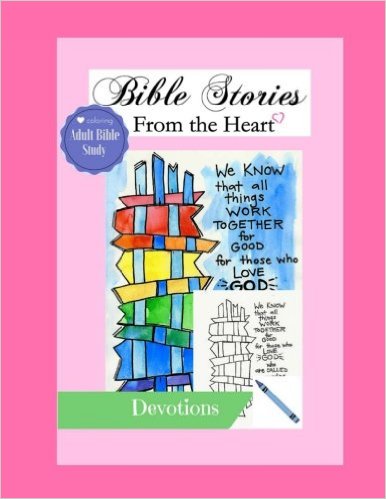 FUN ART INSPIRED BIBLE STUDY! This book has been out since January making it the oldest on this page but I had to include it as a super way to get into the Word.
A New way to study the Bible is finally here! The unique method provided in this workbook is perfect for adults of all ages. Each easy to follow lesson is partnered with a meditative coloring page. For individuals who use journaling Bibles, these coloring pages can easily be drawn or traced directly onto the pages of your Bible. Adding these interactive and visual elements to your daily Bible Study will not only deepen your faith but also enable you to feel God's LOVE in a new and powerful way. All lessons focus on scriptures taken from the NKJV Bible. This study is perfect for both individuals and small groups.
A new study just started in June you can join online.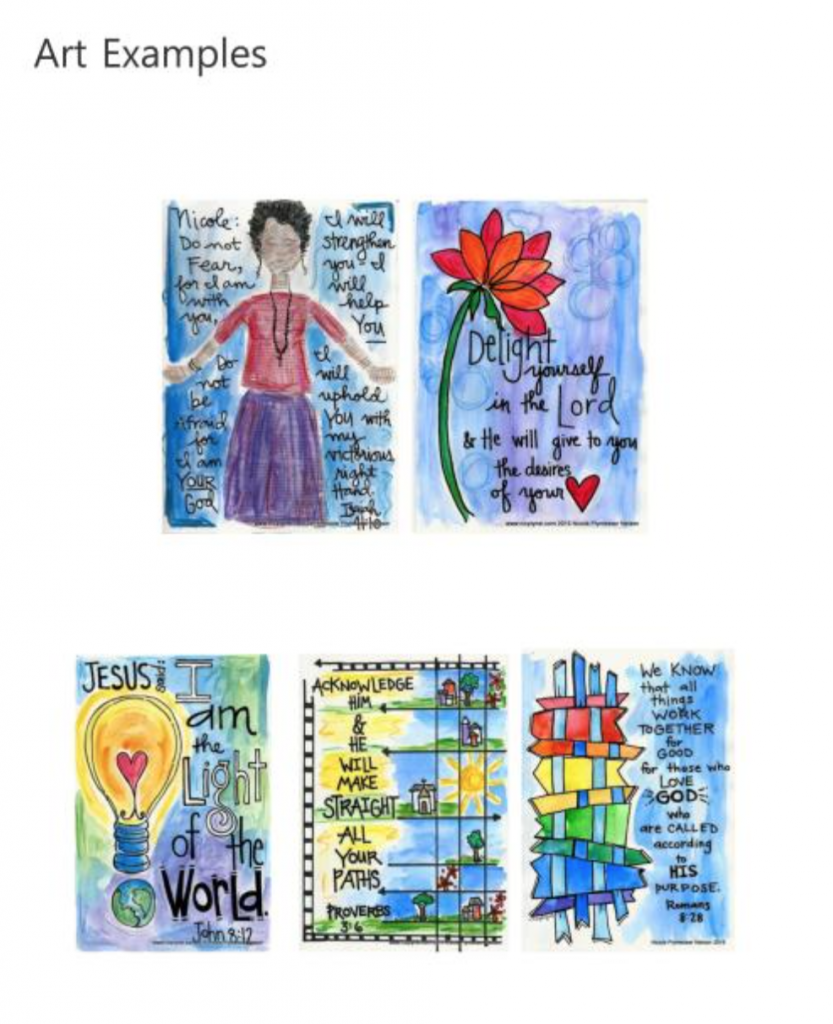 The Bestselling Bible Coloring Books to Date
Save