If you signed up for the Psalm 119 Challenge you will receive an email Friday May 5 with links to download the free PDFs. If you haven't signed up (this is different than our mail list) you can enroll here. 
Don't worry much about the supplies. You do not even need a notebook to participate. I provide all the printable. You do need a printer to print them. You can get something to put the paper in later or use a file folder.
You will need:
A computer
A printer
Copy paper
Scissors
Adhesive (glue stick is fine)
Sticker paper (optional alternative to glue)
Paper trimmer (optional)
Place to store pages either:

A Notebook
A DIY Planner (SEE VIDEO BELOW)
A Happy Planner (9.8 x 8.5)
File folder

PDF Pages (I will provide)

Editable Bible Journalling Planner Kit (5 pages do not print before class)
Decorative Planning Kit

stickers (1 pdf)
washi  (1 pdf)
planner boxes  (1 pdf)

Bible Study Worksheets (10 pdfs given over 22 days)
To Make a DIY Planner You Need:
I hope to post directions by Friday.
I am not sure I will get to post about his to make your own DIY Planner but this video shows you a good overview. Her's is smaller but the same technique. The paper planner I am providing is 8.5×11 with cutting lines to fit the paper into a 9.8 x 8.6 Happy Planner. Remember you don't need this by the class you can do it later. Just put your papers in a file folder during the class
Happy Planner
This is a good time to buy a Happy Planner because you can get The Have Faith Happy Planner  for 18 months beginning July 2017 for $24 here.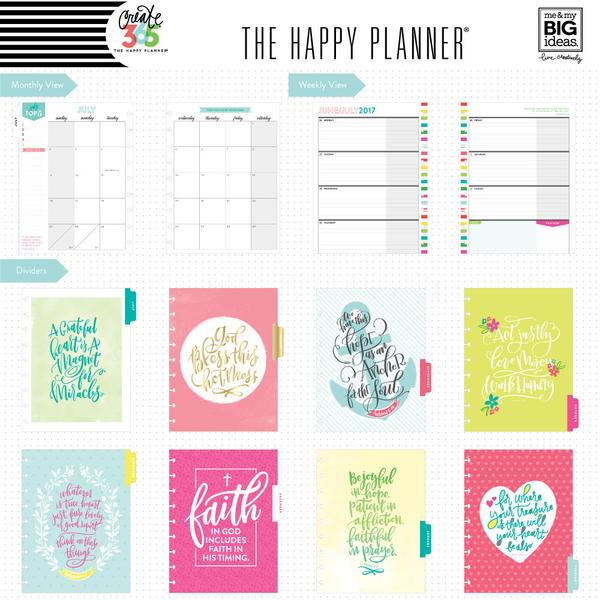 Faith Stickers
Faith stickers are available in my Bible Journal Love Etsy Shop as printables or you can purchase fromAmazon, Michaels, Hobby Lobby, etc.