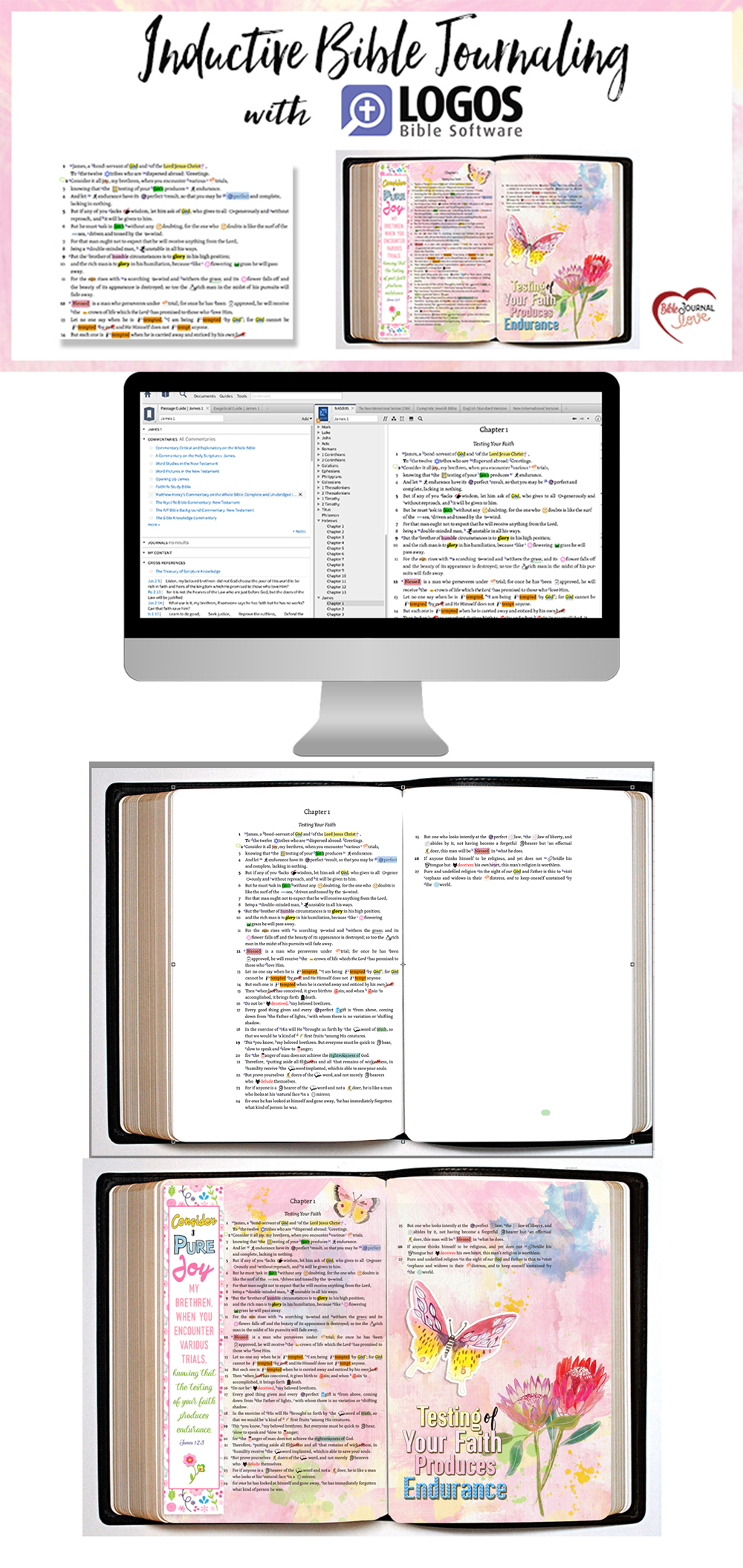 I have used Logos Bible software for years. I absolutely love it. I can't say enough good about it. I use the Inductive Bible study methods to mark my Bible for about 20 years (free guide here).
When I started Bible Journaling Digitally in Photoshop Elements I draged and dropped the symbols in digitally, which worked great. Slowing down and adding icons is terrific way to study and think (especially in the fast paced world).
But now I found out I can add the symbols directly in Logos!! Excited is understating how I feel. I just did James 1 this morning.
Then I added Bible Journaling pretties using Photoshop Elements. 
By compiling thousands of electronic resources, Logos puts a vast digital library at your fingertips. Imagine sitting down in a coffee shop to plan your essay, prayer, or sermon—and, with a click, calling up devotionals, commentaries, reference books, and much more. Logos turns your digital Bible into the resource you never knew you needed. Logos offers a full range of starter libraries, from the basic Christian Home Library to the extensive Portfolio Edition. Whatever size library you need, you can get it from Logos.
My Favorite Logos Features:
SEARCH: Imagine having Bible study tool available all linked to each other and youcan search it just like using Google. Do smart searches—in English, Greek, and Hebrew—within your Bible. Logos 6 knows what words mean and how they're used. Search the Bible by part or clause, and Logos brings back exactly what you're looking for.
HEBREW ROOTS: Reveal cultural concepts in Scripture, including religious activities, food, music, death practices, marriage rituals, economic structures, and more.
INTERACTIVE MEDIA:  Learn with calculators, converters, virtual tours, interactive infographics, language tutors, and more.
TIMELINES: Explore Scripture in its historical context with the Timeline. Filter results by locations, people, events, and more.
VISUAL: Connect Bible stories with their geography. Get scalable maps marked with ancient sites and cities, and zoom in and out to reveal more information.
BARGIN: You have the option to start small and grow your collection. Every package is a bargain. I have $600 Bronze edition (when I first purchased it was called Scholars) that is the equivalent to $8000 worth of print  books.
WORD STUDIES: The Bible Word Study Guide provides in-depth information about a single word in English, Greek or Hebrew, Syntax Databases, Roots, Sense and Phrases
COMMUNITY: Share your thoughts and questions within individual resources, and get feedback from both fellow users and the authors themselves!
LABELS: Add searchable and shareable labels to your notes and highlights, so you can connect ideas across your library and share your findings with others.
READING PLANS:   Create new fully customizable plans for class or Bible study, and share them with your friends.
ANCIENT LITERATURE:  Explore the Bible's background by connecting Scripture to ancient literature. Connect the texts based on references, allusions, and shared themes.
SCHOLARS JOURNALS: Search all of your scholarly journals at once. Search a verse in your guides, and get a list of search results pulled from all of your journals.
GRAPHS: See how many times a given work appears in the Bible (or any of its books), and graph your findings with a click.
TEXT COMPARE: Compare any two texts side by side, including any combination of parallel Bibles.
PROVERBS FILTER: Filter Proverbs by people, form, theme, or topic. Browse topics that interest you, then sort the Proverbs that address that topic for easy skimming.
PSALMS FILTER: Find answers in the Psalms—fast. Filter the Psalms by author, genre, theme, and more, and reveal the poetic structure of Hebrew poetry.
EASY TO USE: Tons of training videos and easy-to-access support. See video training here. 
EASY CITATIONS: One of the time saving features I really like is the ability to copy and paste with citations.
Logos Special Offer
If you are interested in purchasing Logos Software you can receive 15% off their base package along with a book bundle from Lexham Press valued at over $100. This offer is only available over the phone. Email me robin(at)heartofwisdom(dot)com your phone number with LOGOS SOFTWARE in the subject line.
Logos runs on on any platform, Windows and Mac. And there are mobile apps for the iPhone, iPad and Android devices, as well as an online Web app which gives you access to all of your unlocked content on the go. What this means is that you can literally have your entire library in your pocket.