Using Photoshop elements you simply drag and drop images onto a Bible page. No artistic talent needed. Its very easy, I taught my boys to use PSE when they were 8 and 10 years-old.
Download the free 5 Steps to Bible Journaling Digitally in a printable PDF at the bottom of this page. See Bible Template here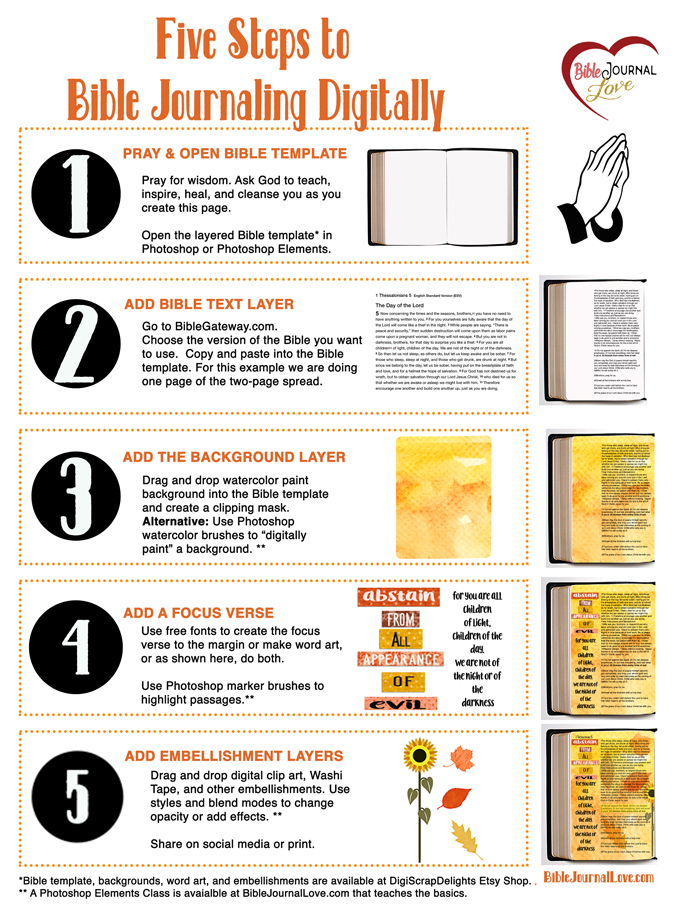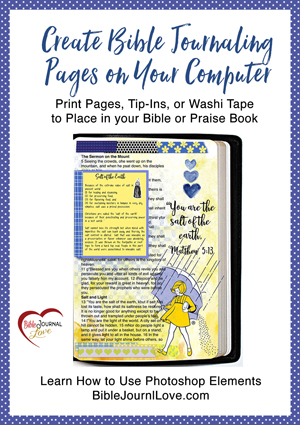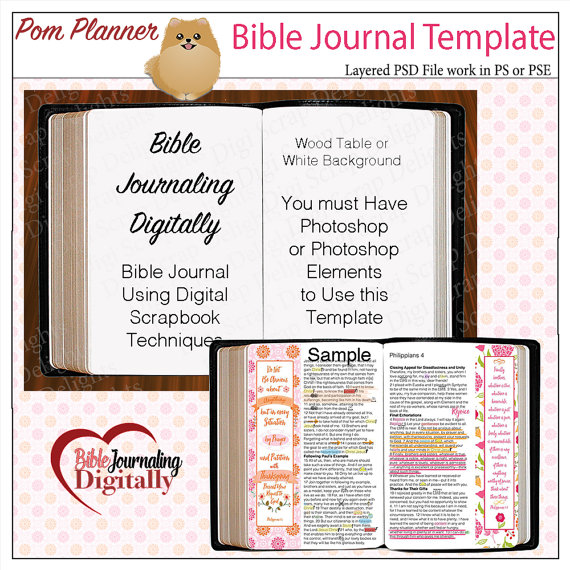 PHOTOSHOP ELEMENTS SALE
Photoshop Elements 15 is now available for $59 here.  is great for homeschool, Etsy Shop owners, Bible Journaling, DIY crafts, and much more. #biblejournalingdigitally #Biblejournaling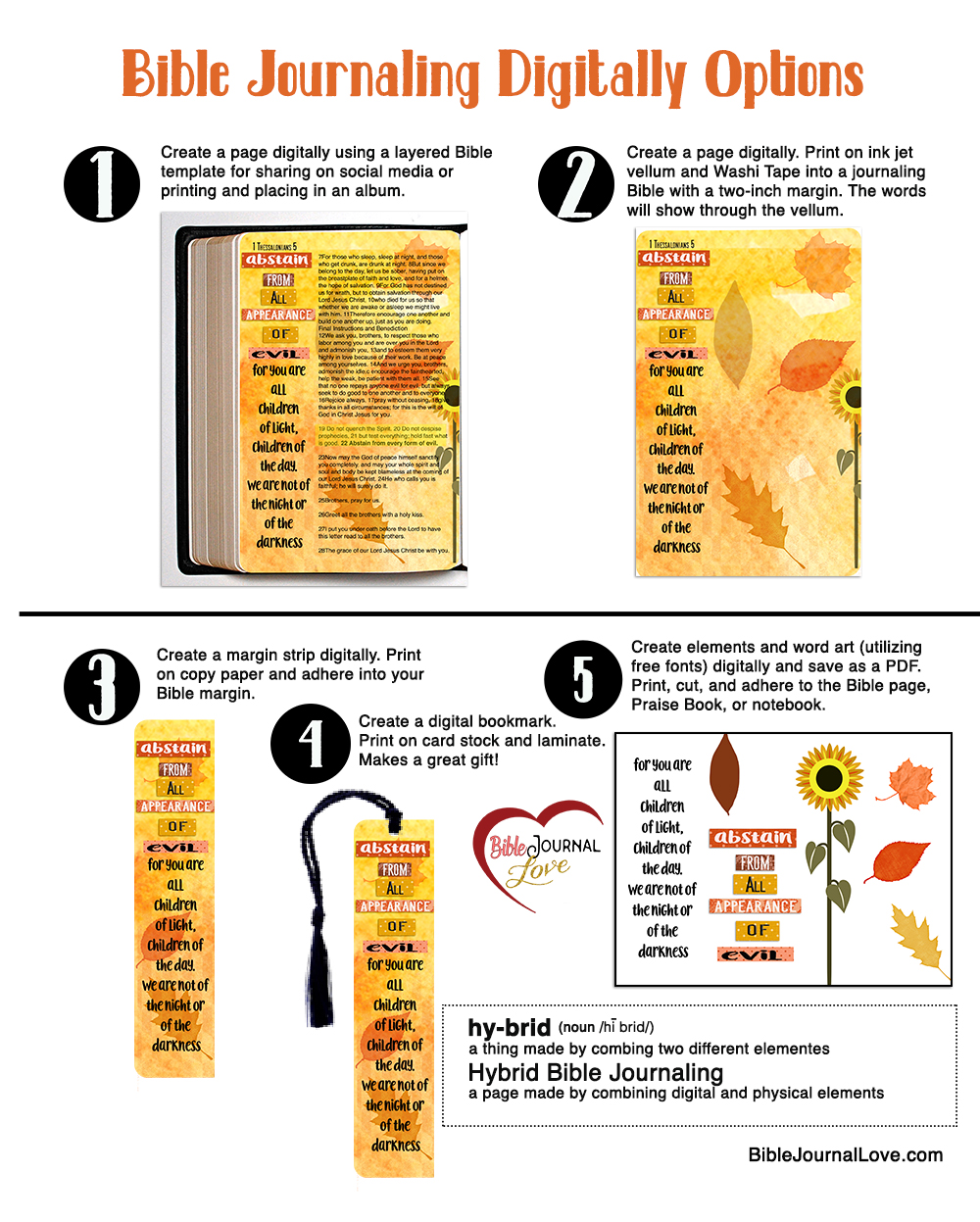 Photoshop Element Class SPECIAL
For a limited time you can receive a $20 Gift Card when you purchase the Photoshop Element Classes from this site. These classes are necessary to understand the basics in PSE.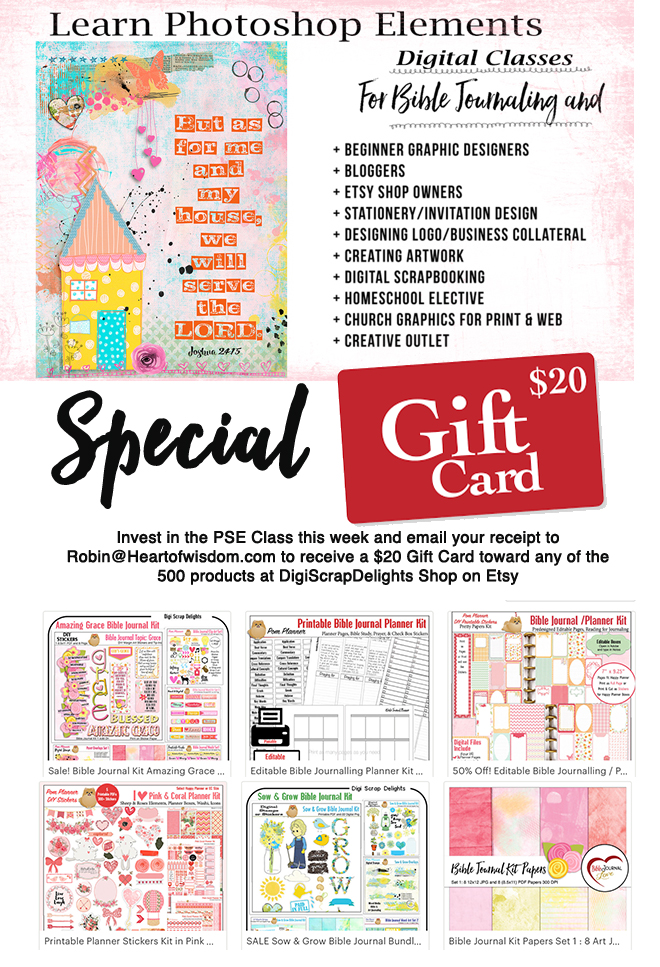 DIGITAL BENEFITS
 Digital images can be used over and over (and re-colored).
 Create unlimited number of pages from one digital kit.
 Thousands of fonts are free online
 I never run out of paint or color choices
I can recolor objects to match kits
Never limited by need to run out and but matching store-bought embellishments
Print out numerous copies of the same page and give as gifts (framed images, bookmarks, even coffee mugs, etc)
Save time. Digital is much faster. No time-consuming like cutting paper, and gluing. Instead click and a drag with a mouse.
Saves space: no more having to frantically clear away the dining table to make way for dinner.
No mess, no cleanup. There aren't any piles of scraps or clippings to clean up or unused 

supplies

 to put away and organize.
Email pages/publish on web. Keep in touch with family and friend anywhere in the world by emailing them a digital copy of your pages or publishing your pages to a blog or website.
 Easy to pick up where you left off if you're interrupted. Simply save your work and you don't have to bother putting away or getting out a bunch of

supplies

.
Learning Photoshop elements can help you in any business or volunteer work. My daughter took what I taught her and created planners and then magazines now has dozens of employees just learning Photoshop. See hedua.com
Click here or the download button to download the 5 Steps to Bible Journaling Digitally in a printable PDF.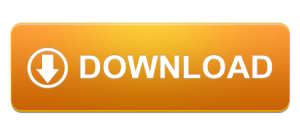 Join 10,000 members on our Bible Journaling Facebook group for Bible Journaling encouragement.