I created a journal page for Ephesians 3 with a Margin Strip for verse 20. How wonderful that these are digital and I can print them over and over. I print the margin strip as a bookmark gift!
I mark all my pages with symbols very similar to the Inductive Bible Study (I made up a few of my own). The digital supplies I used are listed below.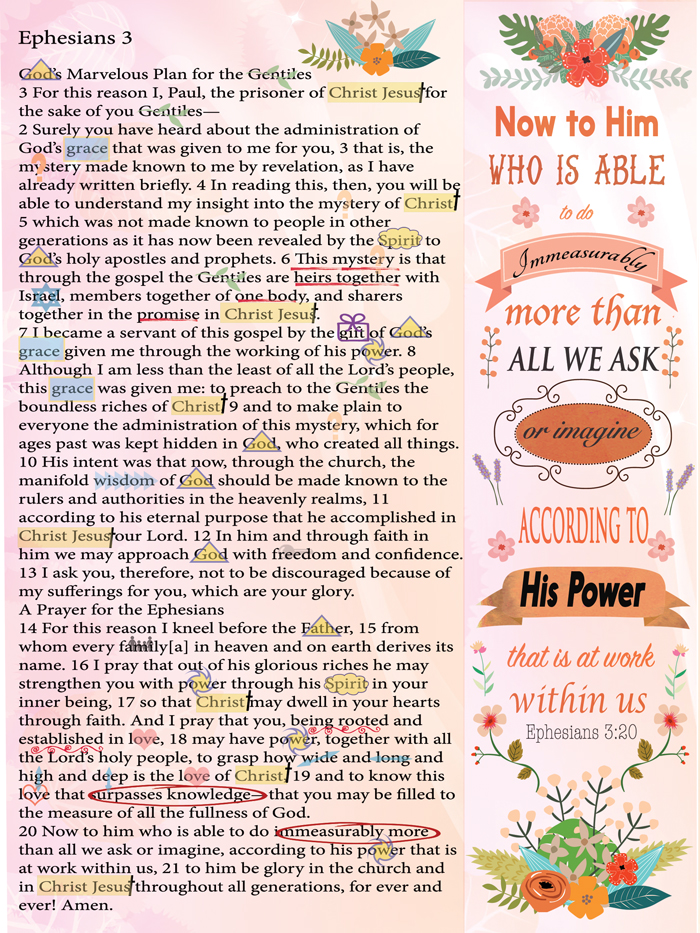 It was such a hard choice. Look at all the great verses! I will probably make margin strips or bookmarks for each of them.
6. His mystery is that through the gospel the Gentiles are heirs together with Israel, members together of one body, and sharers together in the promise in Christ Jesus.
12. 

In him and through faith in him we may approach God with freedom and confidence.

16 

I pray that out of his glorious riches he may strengthen you with power through his Spirit in your inner being,

17 

so that Christ may dwell in your hearts through faith. And I pray that you, being rooted and established in love,

18 

may have power, together with all the Lord's holy people, to grasp how wide and long and high and deep is the love of Christ,

19 

and to know this love that surpasses knowledge—that you may be filled to the measure of all the fullness of God.
Video Teaching on Ephesians 3
Here is a teaching on Ephesians 3 by Dr. Baruch. Dr. Baruch is part of SeedofAbrahamministries.com (my fellowship). He preaches to the Jews in Israel in Hebrew (not many Christians preach in Hebrew) and in English to us in the USA. See LoveIsrael.org for more.
Commentary on Ephesians 3
"…the Apostle, in the wonderful series of supplications which precedes the text, has found his thought of what he may hope for his brethren at Ephesus grow greater with every clause. His prayer rises like some songbird, in ever-widening sweeps, each higher in the blue, and nearer the throne; and at each a sweeter, fuller note." MacLaren's Expositions
Digital Supplies
Click on image for links to suppliers.
You may have seen these flowers on other pages I've created. I use Mia Charro's flowers over and over in different combinations.
A huge paper pack of 18 12×12 papers, I designed and use all the time for overlays.