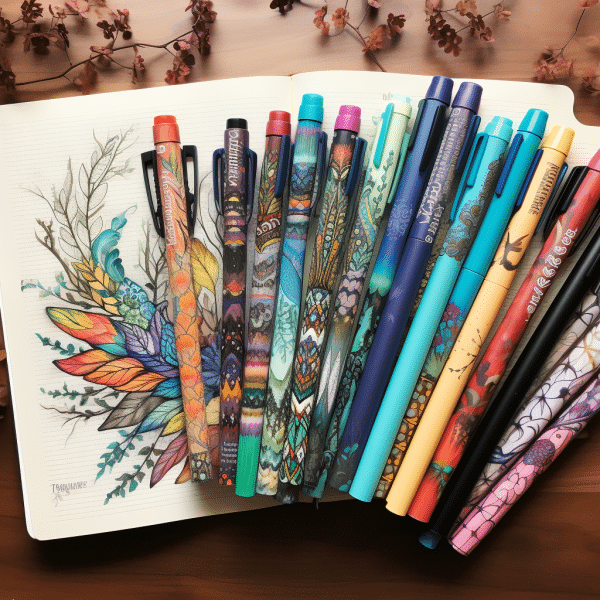 Top Pens for Bible Journaling Without Bleeding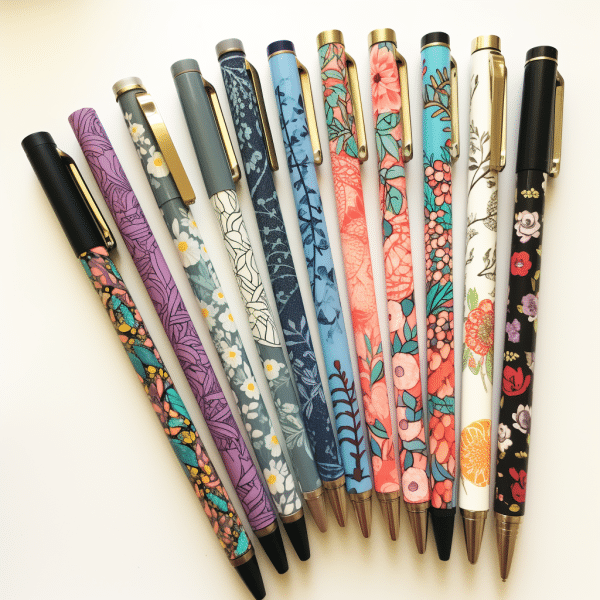 Bible journaling pens Have you ever experienced bleed-through while bible journaling? Or are you new to bible journaling and want to avoid ink bleeding through and tearing? If yes, lucky for you.
Establishing the best pens and markers for bible journaling can be challenging. Yes, there are many pens and markers out there. But how do you know the best? The ones that don't bleed, tear bible pages or smudge too easily.
This article discusses the best pens you can use for bible journaling. Stay locked!
Best Pens For Bible Journaling
Here are some of the best pens for bible journaling:
Mr. Pen Bible Journaling Pens
These pens are perfect for anyone who loves bright colors or wants to keep their bible notes organized by color coding. When you buy a pack of Mr. Pen Bible Journaling Pens, you get ten various colors, making your bible journaling more fun and inspiring.
About bleeding, these pens deliver just the right amount of ink that dries while still on the surface. This prevents the ink from bleeding through the other side. They also come with a ballpoint, making it easy to write on thin, delicate paper. The tip glides over the surface effortlessly without scratching or ripping.
Mr. Pens Bible Journaling Pens are pretty affordable and lets you get a pack of ten pens for the same price as top brand makers, adding up to less than a dollar a pen. This is great value for any pen, leave alone non-bleeding ones.
However, you have to scribble a little for these pens to start writing. And even with a retracted tip, the ink still dries at the ballpoint, requiring you to have paper at hand to get the pen going.
Sakura Pigma Micron Journaling Pens
Sakura Pigma Micron is known as one of the best journaling pens on the market. They have rounded tips allowing them to glide over the paper smoothly. They also write uniformly, ensuring there's no skipping and ghosting.
However, unlike other brands, the Sakura brand doesn't feature many color options in its packages. Their colors are bright and accurate, though, and are perfect if you'll use them for things besides bible journaling, like drawing or coloring.

Another plus of Sakura pens is that they don't bleed through paper, even when writing on very thin paper. The only downside with these pens is that they don't have number coding.
iBayam Fineliner Journaling Pens
If you love colors for your bible journaling, you'll be blown with these pens. iBayam Fineliner's pens feature 24 different felt-tipped markers, making you have more than enough choices to make your journaling more fun. Besides, you can use these pens for other things like drawing mandalas and coloring adult books.
Moreover, these pens write smoothly on thin paper, although you'll have to put very light pressure on the tip. Another great feature of these pens is the vibrantly pigmented ink visible on white paper, even for bright colors like yellow.
What's more, iBayam Fineliner pens use non-toxic and water-based ink with no smelly fumes like alcohol-based inks. Plus, washing the ink with soap and water is easy in case it accidentally gets on your fingers.
However, the problem with these pens is that they bleed through paper slightly. If you hold the pen on one point for long, the ink bleeds through the page. The bleeding is not bad that will get through the next page but still annoying.
G.T. Luscombe Fineliner Bible Pens
Another great handful of bible journaling pens made specifically for writing on parchment paper. So, if you have a regular bible with very thin pages, worry not; these markers will not bleed through. The colors may show slightly through the page, but they won't go through.
The 0.8mm fine tip is another great feature of these pens, making them write thick lines that you can easily read but still fit inside the page's margins. G.T. Luscombe Fineliner also uses quick-drying inks, meaning the ink doesn't smudge. This is especially great for left-handed and right-handed writers who are messy, as they won't have to wash their hands anytime they finish journaling.
If you love colors, G.T. Luscombe Fineliner comes with 12 colors that you can use for different purposes like color-coding notes or drawing colorful doodles.
For downsides, there are almost none except that the pens don't have much ink. So, consider buying two kits if you are an extensive journal keeper.
Writech Retractable Journaling Gel Pens
The best thing about these gel pens is that you'll get vintage color themes dulled down to look old and unusual pretty colors like cameo brown, carambola green, and smoky rose.
Writech Retractable pens use thick consistency gel inks that dry quickly, avoiding smudging and bleeding through paper. The ballpoint makes these pens write smoothly. The pens' tips glide smoothly over the paper laying the right amount of ink.
The only downside with these pens is the quality; they are flimsy.
SUTOROO Markers Brush Pens
These pens feature dual tips; one end has a fine point nib, and the other has a soft felt brush tip. The fine tip is great for writing notes and annotating, while the felt brush is good for highlighting passages.
SUTOROO pens also use non-bleeding water-based ink and come in 24 colors, giving you wide varieties. These pens also use water-based ink that's easy to clean and doesn't have smelly fumes.
As for drawbacks, although minor, you have to have to hold these pens almost perpendicular to the surface to make them write evenly. And although this doesn't happen to all markers, it occurs to most of them.
COLNK Journaling Planner Gel Pens
These gel pens feature quick-drying gel ink with a thick consistency. The ink's thick consistency shows up clearly on any paper and is not easily absorbed, preventing bleeding. The ballpoint tips make writing easy as they effortlessly glide over the surface.
COLNK gel pens come with a silicone grip, making them easy to grasp and control. They also have a red wax seal on the tips that prevent them from drying out in storage.  
The only downside with these pens is their designs, although this is subjective. Depending on preferences, the vintage pen sets may be off-putting for some people.
MyLifeUNIT Fineliner Color Pens
The ultra-fine 0.4 mm nibs are a unique feature and an excellent selling point of these pens. If you love colorful bible journals, these pens would be your best shot, as they come in a set of 10 colorful markers.
You can use the markers to color-code your entries, add annotations to the pages, and underline passages. You can also create doodles if you feel like it.
MyLifeUNIT Fineliner pens are also great for kids as they use water-based inks that don't have smelly fumes and are easy to clean with soap and water. Water-based ink stains are easy to remove with an oxy cleaner.
Unlike other ultra-fine-tipped pens, these pens have nibs reinforced by stainless-steel cladding. Thus, you can place a little more pressure on the nibs, and they won't bend or break. However, don't put too much weight on the tips, as that may cause the ink to bleed.
Regarding bleeding, these pens are not suitable for coloring. That's because the ink will easily bleed through when you place more than two layers of ink on paper. So, if you want to color using these pens, use a light pointillism technique or hash the lines a little.
Soucolor Dual Tip Brush Markers Pens
Featuring dual tips, these pens are very versatile. The fine tip end lets you write as many words as you want in a limited space and still have more left.
Speaking of colors, there are 32 various-colored markers in this set. You can use these to draw doodles on the pages or do color-coding. Alternatively, you can use pens for drawing and coloring. The brush tips are especially great for calligraphy work.
Soucolor pens are excellent, with the only downside being they have almost similar colors. Like, there are three shades of pink with nearly negligible differences.
Aen Art Journaling Gel Pens
The best thing about these pens is that they have about 40% more ink than other common brands. This means the pens can take you a while before making a dent in your ink levels.
Again, if you love your bible journal whimsical and colorful, you'll be wowed by the different colors in this set. These include standard ink colors, pastels, glitter, neon, and metallic ink markers.
Aen Art pens also have ballpoint tips, which are the best for bible journaling as they glide smoothly over paper. And unlike felt tip pens, these don't punch a hole through the page.
As for drawbacks, the glitter pens are not great for journaling and would have been better if replaced with more color choices.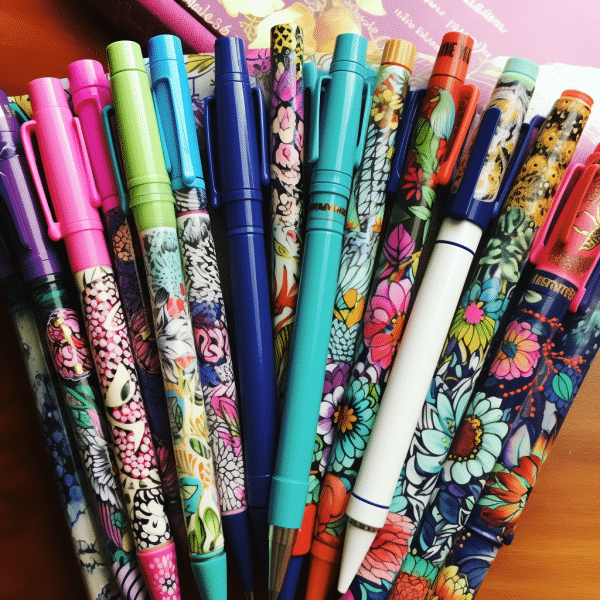 Conclusion
Bible journaling can be fun and fulfilling. You can make this experience even better by investing in high-quality pens that don't bleed, scratch, or smudge. You can make your journal entry look clean and neat when you have the right writing instrument – the best Bible journaling pens.