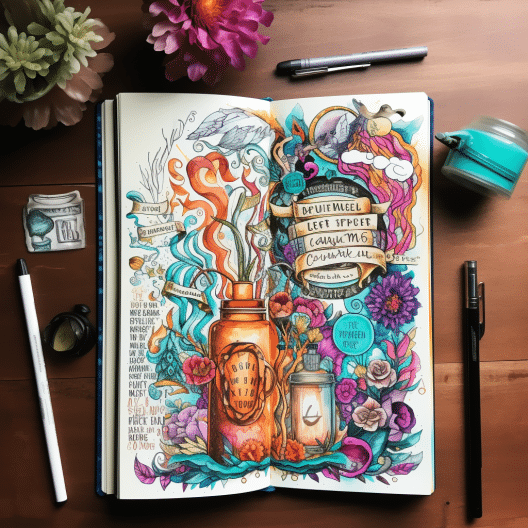 Unlocking Creativity Through Bible Journaling

Bible journaling is an inventive way to express creativity while engaging with the Bible. By fusing art and self-reflection, people can gain a deeper understanding of scripture and its teachings.
You can turn blank pages into meaningful works of art with paints, colored pencils, collage, and more! This lets you explore emotions and thoughts, making it personal and profound.
Bible journaling also promotes self-expression and encourages people to interact with scripture in new ways. It's a chance to make creativity and spirituality coexist.
Its roots go back to medieval illuminated manuscripts – texts with stunning illustrations and illuminations that heightened the spiritual experience.
Nowadays, Bible journaling is a popular way to connect with God's word. It's an outlet for those wanting alternative methods to engage with scripture other than reading.
Bible journaling isn't just a hobby – it's a way to express yourself and explore spirituality. Through creative interpretation and contemplation, it's possible to build a closer connection with the Bible and find new insights in faith.
What is Bible journaling?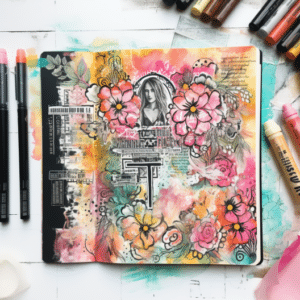 Bible journaling is a special way to express yourself. It's about combining art techniques such as drawing, painting, and collage with reflections on scriptures. It helps individuals connect with the Bible and explore their spirituality in a visually stimulating manner.
Start by selecting a passage or verse that resonates with you. Read and meditate on it. Let it inspire your creativity. Use art supplies like colored pencils, watercolors, stickers, or washi tapes to create visual representations of the insights and emotions evoked by the scripture.
One great thing about Bible journaling is you can personalize it. Some prefer a minimalist approach with simple illustrations or calligraphy. Others choose to fill their pages with vibrant colors and intricate designs. It's up to you to showcase your creativity in a way that feels authentic.
Here are tips to make the most out of Bible journaling:

Choose art supplies that suit your style. High-quality tools can enhance your artwork.
Start small. Focus on smaller sections of scripture.
Explore different art techniques. Try hand lettering, stamping, mixed media elements like washi tape or ephemera.
Embrace imperfections. Bible journaling is not about creating perfect artwork. It's about connecting with the text and expressing your thoughts and emotions.
Follow these suggestions to use Bible journaling to deepen your spiritual connection with scripture. Express yourself through this unique form of journaling and let your imagination flow.
Bible journaling is a creative way to express yourself. By using various art techniques, you can bring your own interpretations of scriptures to life! It has many advantages.
You can visually and physically interact with scriptures with colors, drawings, and other art elements.
It gives you an opening to reflect and show your thoughts, emotions, and spiritual experiences.
You can try new techniques and explore without any set rules or limitations.
Plus, Bible journaling provides a sense of community. You can connect online or in person with others who love the combination of faith and creativity.
Actually, it goes back to medieval illuminated manuscripts where scribes decorated the pages with fancy illustrations. It has kept going and now it has this new form called Bible journaling. Today, many people get inspired by this unique method of expression.
Getting started with Bible journaling
Bible journaling is a way to express yourself with art in the pages of a Bible. Here's how to get started:
Find a Bible with wide margins or a journaling Bible.
Gather supplies like colored pencils, watercolors, and stickers.
Pick a passage or verse that speaks to you.
Add illustrations, hand lettering, or collages to the scripture.
Make it personal and unique. Have fun, explore different techniques and styles.
Did you know? Bible journaling has become popular in religious communities around the world, giving people a new way to connect with their faith.
Different techniques and styles for Bible journaling
Hand lettering, watercolor painting, collage, stickers, washi tapes, mixed media, and embossing – these are some of the techniques for Bible journaling.
Plus, you can add your own personal touch with hand-drawn doodles, photographs, illustrations, and even calligraphy! The possibilities are endless!
Remember, there are no rules when it comes to Bible journaling. Let your creativity flow freely!
Finding inspiration for Bible journaling
Are you seeking inspiration for Bible journaling? Scripture offers profound wisdom and stories to be visually expressed. Check out works of other faith-based artists on platforms such as Pinterest and Instagram. Attend workshops or join online communities to share work, exchange ideas, and learn from other artists.
Remember: there are no wrong ways to approach Bible journaling. Allow yourself the freedom to experiment and make mistakes. So, start your creative journey today and let your imagination flow onto the pages of your Bible!
Tips for incorporating creativity in Bible journaling
When it comes to Bible journaling, incorporating creativity is a great way to express yourself and enhance your spiritual experience. Here's how:
Choose vibrant colors! Brighten up your pages with a variety of hues. Experiment with different combos to make your pages stand out.
Explore art techniques! Add depth and texture to your pages with watercolor painting, hand lettering, or collage. Unleash your creativity!
Include meaningful symbols and images! Include symbols and pictures that have special meaning for you. Connect the words you write with the visuals on the page.
Embellish your pages! Decorate your pages with washi tape, stickers, or stamps. Little details can make a big difference in the aesthetic of your Bible journal.
Take your Bible journaling to the next level with different writing styles or mixed media techniques. There's no wrong way to express yourself—let your imagination fly!
Creativity in Bible journaling gives folks a unique, personal way to interact with scripture. It merges their artistic gifts with their faith, leading to an inspiring spiritual journey.
Personal stories and testimonials from Bible journaling enthusiasts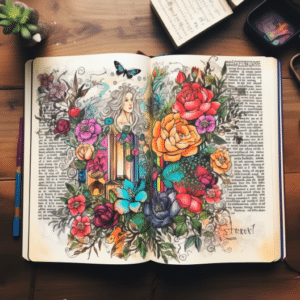 Bible writing is a creative way for people to show off their artistic skills and learn more about the Bible at the same time. By combining art and faith, people can create personal stories and testimonies that show how they are connected to the Bible in their own way.
This gives them a way to show themselves in a healthy way. Every stroke of paint or sticker becomes a symbol of their walk with God. Their writings become stories of God's presence in their lives, telling of victories, hope, and direction.
Bible writing not only lets people show off their artistic side, but it also helps them feel more connected to the Bible. As they learn more about lyrics and think about what they mean, they want to show what they've learned in the art they make. Words on the page are easier to understand and remember when they are paired with pictures, drawings, and handwriting.
Bible writing is a way to keep a physical record of your spiritual growth. It also gives people who do it a sense of community. People can find people with similar hobbies and experiences by sharing their own stories on social media or by joining local groups. This sense of community helps people be more creative and inspired.
For those interested in trying Bible journaling as a form of creative expression, here are some tips:
Start small:
Focus on one phrase or part of a passage that speaks to you. This lets you get a full sense of what it means without getting too overwhelmed by the whole Bible.
Experiment with different mediums:
Look online for other people who like Bible journaling, or go to classes to learn new skills and hear different points of view. You can get ideas for your own work by looking at how other artists use the Bible.
Get inspiration from others:
Look online for other people who like Bible journalings, or go to workshops to learn new skills and get different points of view. Seeing how other artists use the Bible can give you ideas for your own work.
Embrace imperfection:
Remember that Bible journaling is not about perfection. It's about the process and the personal link you create with scripture. Allow yourself to make mistakes and see them as chances to improve.
By using these tips in your Bible writing, you can open up a whole new world of art and spiritual growth. Let your personal stories and testimonies shine through your art to make a powerful statement about your faith and your ability to share it.
Conclusion
Bible journalings is an amazing way to show creativity and gain a better understanding of the Scriptures. By mixing art with faith, people can create pages that capture their spiritual journey. They can think about what the text means and how it applies to life. Bible journaling is a great chance to express yourself and stay connected to God in a creative way.
Also, Bible journaling brings people together. Many join online groups or take part in workshops where they can show their work and learn from others. People in these communities share support and ideas, which helps to motivate them to try new artistic things. This experience lets them connect with those who understand the combination of art and spirituality.
Bible journaling is also good for remembering your spiritual journey. Every page is a story, with moments of revelation or progress. Looking back on these pages can be inspiring and remind you of how far you've come with your faith. It's a way to remember God's presence and guidance in your life.
Bible journaling has become more popular over the years. It started as a hobby, but now more people realize the benefits of personal reflection and growth. Artists from different backgrounds are doing it and creating amazing pieces that both inspire devotion and prove how Scriptural transformation can be powerful.
Bible journaling is much more than art. It leads to self-discovery, community-building, and spiritual growth. By combining creativity and Scripture, people can experience greater insight and have a stronger bond with God. You can use illustrations or doodles, each page is a chance to explore and express. So, grab your journal and pens, and start discovering the wonders of the Bible.
Additional resources and references
You can talk to other Bible writing fans on social media groups or special websites, get help, and share ideas. Check out different books and guides with step-by-step steps, creative ideas, and tips for making your Bible writing more creative.
Invest in good art tools like pens, markers, watercolors, or colored pencils that fit your style and help your Bible journaling be more artistic. Get devotionals made just for Bible journaling, as well as study guides or notes, to learn more about the Bible passages you draw.
Incorporate unique details that can enrich your Bible journaling experience. Try different styles and techniques like hand lettering, collage, or mixed media to bring out your creativity. Add personal reflections or prayers to your artwork. Embrace imperfections as part of the process.
Bible journaling is becoming more popular every day. So, there are lots of resources to help anyone interested in this practice. Websites with tutorials, carefully chosen supplies, everything has become accessible, making it easier for people to express their creativity through Bible journaling.
Frequently Asked Questions
1. What is Bible journaling?
Bible journaling is a creative way to learn about the Bible by putting art, writing, and thought in the margins of a Bible or in a separate journal. It lets people show their faith and talent at the same time.
2. How can I start Bible journaling?
To start Bible journalings, you will need a Bible or a notebook, art supplies like colored pencils, markers, or watercolors, and a willingness to explore your creativity. Start by choosing a verse or passage that speaks to you. Carefully read it, and then let your mind lead you as you use art and writing to show what it means.
3. Do I have to be an artist to do Bible journaling?
No, you do not need to be a professional artist to engage in Bible journalings. It is a personal and creative process, so there are no rules or expectations. The goal is to express your thoughts and emotions in a way that feels meaningful to you. Everyone's journaling style will be unique and special.
4. Can I use digital tools for Bible journaling?
Absolutely! Digital apps, tools, and even design programs can be used to do Bible journaling. Some people find it easier or more handy to use digital tools, while others like to draw and write in a Bible or journal that they can hold in their hands. All you have to do is find what works best for you and helps you get creative with the Bible.
5. Are there any specific themes or techniques for Bible journaling?
Bible journalings doesn't have any special themes or ways to do it. It's a way to show how you feel about God and how creative you are. But some popular ways to make art are to hand-letter Bible verses, make art with a theme or story in mind, use mixed media, or add decorative elements like washi tape or stickers. There are a lot of things you can do, and you can try out different styles until you find what works for you.
6. How can Bible journaling enhance my spiritual journey?
Bible writing is a unique way to learn more about the Bible and get closer to God on a personal level. By thinking creatively about the book, you can learn new things, think about your own life, and get ideas. It helps you slow down, think about God's Word, and make a picture of your spiritual journey. This makes it a meaningful and life-changing exercise.