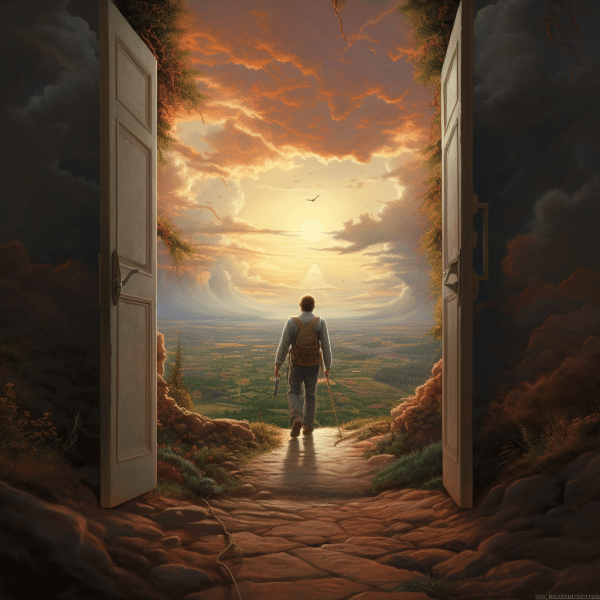 Seeking God's Guidance When Leaving Home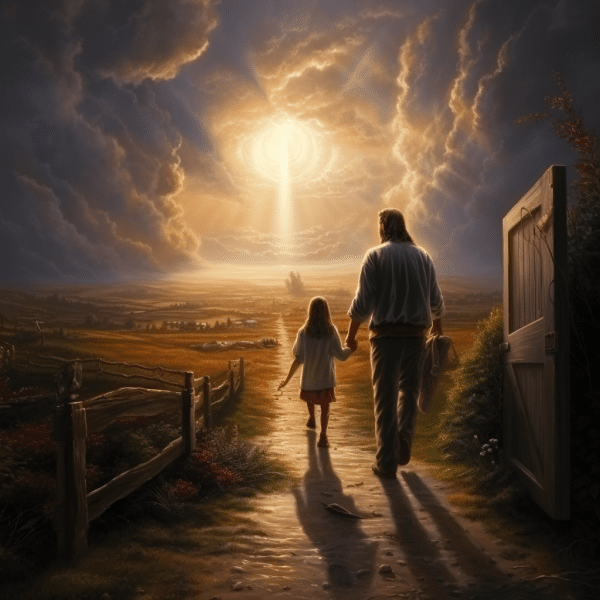 Leaving home can be a momentous occasion in any individual's life, accompanied by both exhilaration and unease. As Christians, it's essential to have an acknowledgement of the scriptures to make sure their decision is in alignment with God's will for them.
This blog addresses what the Bible says about moving away from home, the numerous reasons why, and how to make a religious decision. This webpage can help young adults starting off or starting over study and determine what to do.
Related: BIBLE VERSES ABOUT FOSTER CARE
Approaching The Decision to Leave Home From a Biblical Perspective
When making such a big decision as leaving home, it's important to consult the Bible and God. One should consider their options and seek heavenly guidance to ensure they made the appropriate choice. Here are some key principles to consider when approaching the decision to leave home:
Seek wisdom and guidance through prayer and scripture: Before taking the plunge and striking out on one's own, it is vital to seek heavenly direction and insight through prayerful rumination of the scriptures. Moreover, receiving advice from those sanctified counselors who are spiritually mature can be of service in discerning the Lord's will.
Consider the impact on relationships and responsibilities: Leaving home can affect relationships with family, friends, and the community. It is important to consider how the decision to leave may impact these relationships and take steps to maintain connection and communication. Additionally, individuals should consider their responsibilities and obligations to their family, community, and other commitments before leaving.
 Making the decision to leave the comforts of home is one that requires deep contemplation and understanding.
Related: BIBLE VERSE ABOUT GUARDING YOUR EYES AND EARS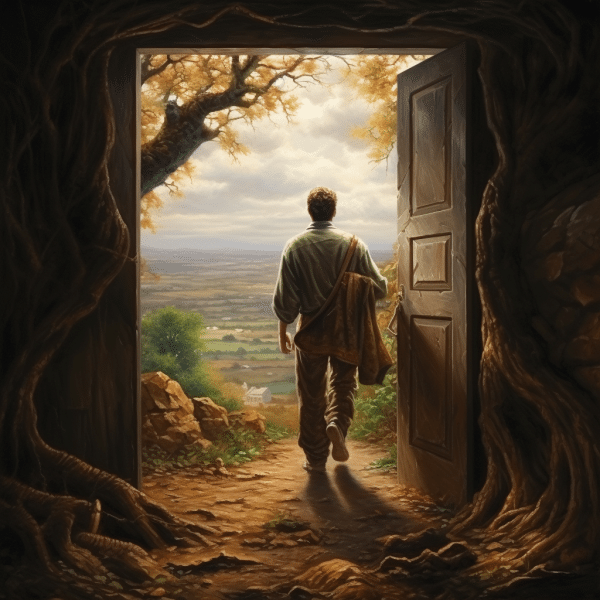 Bible Verses About Leaving Home
Genesis 12:1-2 – "Seek wisdom Now the Lord said to Abram, 'Go from your country and your kindred and your father's house to the land that I will show you. And I will make of you a great nation, and I will bless you and make your name great, so that you will be a blessing.'"
Deuteronomy 31:6 – "Be strong and courageous. Do not fear or be in dread of them, for it is the Lord your God who goes with you. He will not leave you or forsake you."
Joshua 1:9 – "Have I not commanded you? Be strong and courageous. Do not be frightened, and do not be dismayed, for the Lord your God is with you wherever you go."
Psalm 121:8 – "The Lord will keep your going out and your coming in from this time forth and forevermore."
Isaiah 43:2 – "When you pass through the waters, I will be with you; and through the rivers, they shall not overwhelm you; when you walk through fire you shall not be burned, and the flame shall not consume you."
1. Bible Verses About Leaving Home
Matthew 10:16 – "Behold, I am sending you out as sheep in the midst of wolves, so be wise as serpents and innocent as doves."
Luke 15:13 – "Not many days later, the younger son gathered all he had and took a journey into a far country, and there he squandered his property in reckless living."
John 14:2 – "In my Father's house are many rooms. If it were not so, would I have told you that I go to prepare a place for you?"
Acts 7:3 – "And said to him, 'Go out from your land and from your kindred and go into the land that I will show you.'"
Hebrews 13:5 – "Keep your life free from love of money, and be content with what you have, for he has said, 'I will never leave you nor forsake you.'"
2. Bible Verses About Leaving Home
Genesis 31:13 – "I am the God of Bethel, where you anointed a pillar and made a vow to me. Now arise, go out from this land and return to the land of your kindred.'"
Exodus 33:14 – "And he said, 'My presence will go with you, and I will give you rest.'"
Deuteronomy 1:6 – "The Lord our God said to us in Horeb, 'You have stayed long enough at this mountain.'"
Deuteronomy 29:28 – "And the Lord uprooted them from their land in anger and fury and great wrath, and cast them into another land, as they are this day.'"
Joshua 24:15 – "And if it is evil in your eyes to serve the Lord, choose this day whom you will serve, whether the gods your fathers served in the region beyond the River, or the gods of the Amorites in whose land you dwell. But as for me and my house, we will serve the Lord.'"
3. Bible Verses About Leaving Home
Judges 18:6 – "And the priest said to them, 'Go in peace. The journey on which you go is under the eye of the Lord.'"
2 Samuel 15:19-20 – "Then the king said to Ittai the Gittite, 'Why do you also go with us? Go back and stay with the king, for you are a foreigner and also an exile from your home. You came only yesterday, and shall I today make you wander about with us, since I go I know not where?'"
2 Chronicles 7:14 – "If my people who are called by my name humble themselves, and pray and seek my face and turn from their wicked ways, then I will hear from heaven and will forgive their sin and heal their land."
Ezra 1:3 – "Whoever is among you of all his people, may his God be with him, and let him go up to Jerusalem, which is in Judah, and rebuild the house of the Lord, the God of Israel—he is the God who is in Jerusalem."
Nehemiah 2:12 – "Then I arose in the night, I and a few men with me. And I told no one what my God had put into my heart to do for Jerusalem. There was no animal with me but the one on which I rode."
4. Bible Verses About Leaving Home
Psalm 16:11 – "You make known to me the path of life; in your presence there is fullness of joy; at your right hand are pleasures forevermore."
Psalm 48:12-14 – "Walk about Zion, go around her, number her towers, consider well her ramparts, go through her citadels, that you may tell the next generation that this is God, our God forever and ever. He will guide us forever."
Psalm 121:1-2 – "I lift up my eyes to the hills. From where does my help come? My help comes from the Lord, who made heaven and earth."
Proverbs 3:5-6 – "Trust in the Lord with all your heart, and do not lean on your own understanding. In all your ways acknowledge him, and he will make straight your paths."
Isaiah 40:31 – "But they who wait for the Lord shall renew their strength; they shall mount up with wings like eagles; they shall run and not be weary; they shall walk and not faint."
5. Bible Verses About Leaving Home
"Therefore a man shall leave his father and his mother and hold fast to his wife, and they shall become one flesh." – Genesis 2:24
"And everyone who has left houses or brothers or sisters or father or mother or children or lands, for my name's sake, will receive a hundredfold and will inherit eternal life." – Matthew 19:29
"And he said to them, "Truly, I say to you, there is no one who has left house or wife or brothers or parents or children, for the sake of the kingdom of God," – Luke 18:29
"And the Lord said to Abram, "Go from your country and your kindred and your father's house to the land that I will show you." – Genesis 12:1
"So Abram went, as the Lord had told him, and Lot went with him. Abram was seventy-five years old when he departed from Haran." – Genesis 12:4
6. Bible Verses About Leaving Home
"By faith Abraham obeyed when he was called to go out to a place that he was to receive as an inheritance. And he went out, not knowing where he was going." – Hebrews 11:8
"And they went out and fled from the tomb, for trembling and astonishment had seized them, and they said nothing to anyone, for they were afraid." – Mark 16:8
"But he said to him, "Follow me, and leave the dead to bury their own dead." – Matthew 8:22
"And the Lord said to Moses, "Go down, for your people, whom you brought up out of the land of Egypt, have corrupted themselves." – Exodus 32:7
"So Moses listened to the voice of his father-in-law and did all that he had said." – Exodus 18:24
7. Bible Verses About Leaving Home
"But Naomi said to her two daughters-in-law, "Go, return each of you to her mother's house. May the Lord deal kindly with you, as you have dealt with the dead and with me." – Ruth 1:8
"And the king said to her, "What is your trouble?" She answered, "This woman said to me, 'Give your son, that we may eat him today, and we will eat my son tomorrow.'" – 2 Kings 6:28
"But Elisha said to him, "Do not be afraid, for those who are with us are more than those who are with them."" – 2 Kings 6:16
"And the Lord said to Joshua, "Today I will begin to exalt you in the sight of all Israel, that they may know that, as I was with Moses, so I will be with you." – Joshua 3:7
"And they departed from Rameses in the first month, on the fifteenth day of the first month. On the day after the Passover, the people of Israel went out triumphantly in the sight of all the Egyptians," – Numbers 33:3
8. Bible Verses About Leaving Home
"So he left all that he had in Joseph's charge, and because of him he had no concern about anything but the food he ate. Now Joseph was handsome in form and appearance." – Genesis 39:6
"Now the Lord said to Abram, "Go from your country and your kindred and your father's house to the land that I will show you." – Genesis 12:1
By faith he [Abraham] went to live in the land of promise, as in a foreign land, living in tents with Isaac and Jacob, heirs with him of the same promise. For he was looking forward to the city that has foundations, whose designer and builder is God." – Hebrews 11:9-10
"And the Lord said to Abram, 'Go from your country and your kindred and your father's house to the land that I will show you.'" – Genesis 12:1
"But Ruth said, 'Do not urge me to leave you or to return from following you. For where you go I will go, and where you lodge I will lodge. Your people shall be my people, and your God my God.'" – Ruth 1:16
"And leaving Nazareth he went and lived in Capernaum by the sea, in the territory of Zebulun and Naphtali…" – Matthew 4:13
9.Bible Verses About Leaving Home
"And when they had brought them out, they said, 'Sirs, what must I do to be saved?' And they said, 'Believe in the Lord Jesus, and you will be saved, you and your household.' And they spoke the word of the Lord to him and to all who were in his house. And he took them the same hour of the night and washed their wounds; and he was baptized at once, he and all his family. Then he brought them up into his house and set food before them. And he rejoiced along with his entire household that he had believed in God." – Acts 16:30-34
"And Joseph also went up from Galilee, from the town of Nazareth, to Judea, to the city of David, which is called Bethlehem, because he was of the house and lineage of David…" – Luke 2:4
"So Abram went, as the Lord had told him, and Lot went with him. Abram was seventy-five years old when he departed from Haran." – Genesis 12:4
"And they took up twelve baskets full of broken pieces and of the fish. And those who ate the loaves were five thousand men. Immediately he made his disciples get into the boat and go before him to the other side, to Bethsaida, while he dismissed the crowd." – Mark 6:43-45
"So he got up and came to his father. But while he was still a long way off, his father saw him and felt compassion for him, and ran and embraced him and kissed him." – Luke 15:20